Acupuncture
Needle-less, Electric Acupuncture in Lincoln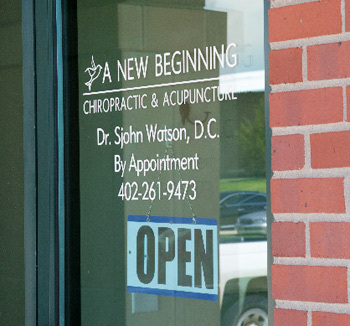 In a matter of a second, we use a gentle electrical current to help provide the most effective care possible. This type of acupuncture is more convenient and much quicker than using traditional needles. It provides the most advanced benefits of acupuncture for your healing.
When combined with chiropractic care, acupuncture helps enhance your healing so you can feel better, faster. Give us a call to discuss any insurance and payment questions you might have about needle-less Acupuncture.
History of Acupuncture
Acupuncture is a form of therapy and health maintenance first developed by the Chinese about 5,000 years ago. It is a form of natural healing to restore proper energy flow in your body.
A complete healing art within itself, acupuncture is concerned with the systems of the body to correct health problems within those systems.
While there are a vast array of health issues acupuncture can help with, the following ailments usually responding to acupuncture:
Neuralgias
Headaches
Trigeminal neuralgia
Tic
Spasms
Muscular rheumatism
Tennis elbow
Osteoarthritis
Rheumatism
Ulcers
Stomach problems
Diarrhea
Hepatitis
Asthma
Bronchitis
Shortness of breath
Abnormal blood pressure
Lumbago
Tonsilitis
Hay Fever
Loss of hearing
Skin conditions
Ready to experience our needle-less acupuncture? We'd love to show you the difference it can make in your health. Give us a call and let's get started! (402) 261-9473
Acupuncture in Lincoln | (402) 261-9473