Meet Dr. Sjohn Watson
Why I am a Chiropractor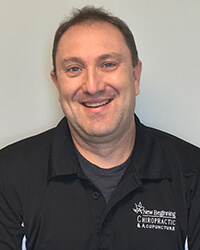 When I was in my early thirties I had back pain so severe that it took me 20 minutes to crawl up a flight of stairs in my home. For the first time in my life, I visited a chiropractor who had me feeling better within a couple weeks and also eliminated my daily headaches. When my treatment plan was completed, my back pain was completely gone and it had been 6 weeks since my last headache. I was so impressed with the results I had with chiropractic that at the age of 38 I quit my job and enrolled in Chiropractic school. My desire now is to share the same amazing healing results with my patients.
A Biographical Sketch of Dr. Watson
Born in Lincoln, NE
Primary Education – Pius X High School, Southeast Community College
Undergraduate – Cleveland University – Kansas City, Bachelor of Science
Graduate – Cleveland University – Kansas City, Doctorate of Chiropractic
Acupuncture – Acupuncture Society of America
Pediatric Chiropractic – International Chiropractic Pediatric Association
Pregnancy Chiropractic – Bagnell Technique
Zone Technique – Zone School of Healing – San Francisco
Give us a call today to schedule an appointment with Dr. Watson!