A New Beginning Chiropractic & Acupuncture
Reviews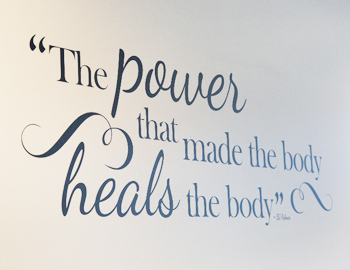 What Our Patients Are Saying
"I could clean the bar the entire time without my back hurting!" ~N.C.

"I have suffered with fibromyalgia for years. The morning after my first zone adjustment I woke up without "Fibro-fog". I have been able to rest much easier and I am able to open my eyes completely! I am also able to hear higher pitches that I haven't heard in years." ~ST
"My resting heartrate has dropped to normal since getting zone adjustments." ~AM
"My constipation that I dealt with for years was completely resolved in one visit." ~BM
"Dr. Watson is an excellent chiropractor! He makes spinal and body adjustments with confidence and ease. He cured my shoulder pain in just a few appointments; it had been hurting for 8 months, and I got relief immediately upon his first adjustment, then have been pain-free in just a few appointments. My foot was "frozen" for over a year and very painful: Dr. Watson adjusts it with each appointment, and I can now circle my ankle and stand on half-toe! I highly recommend Dr. Watson to be your chiropractor. His winning personality and expertise are just what you need. There is no waiting time when you come into your appointment, results happen quickly. I am so fortunate to have found him. Don't wait in pain any longer!" ~DW
"Been seeing Dr Watson for eight-ish years for back issues which don't even exist anymore. Helped so much before, during, after pregnancy too. He's the very best!" ~HD
"Dr. Watson is fantastic. I feel like I'm family. Dr. Watson gives personalized attention to my chiropractic needs and I'm always taken care of when I need help. You'd be doing yourself a disservice by not coming here." ~MK
"Dr Watson has been seeing our daughter for several years now. He was the only person that helped get her migraines under control and she now just see's him for maintenance appointments. He is such a wonderful person who truly wants to help his patients. We highly recommend him!" ~KB
"I have had a bad hip that goes out when I'm on my feet for too long. After seeing Dr. Watson for over a year now and started a new job where I'm on my feet all day, my hip has not hurt the whole time (over a month). I keep seeing him for my back, after five minutes in his office I feel as good as new!" ~D.D.
"I feel so much better!" ~ J.M. via e-mail two hours after his appointment and injuring his back at the gym.
"Before my first appointment with Dr. Watson six weeks ago, I had "zero" confidence or faith in chiropractic medicine. I am 70 years old and it always seemed that I only heard the bad stuff. Needless to say, I was very fearful of going, but I trusted Dr. Watson, only because his mother is a very good friend.
Now, I am a firm believer in what it can do for a person's over-all health. I feel better that I have felt for a very long time and now, I feel that if my back ever hurts like it did before, that there is hope and healing. I believe that God directed me to make this decision, and I am so grateful to God and to Dr. Watson!" ~ M.H.
"When I started seeing Dr. Watson I had several issues. I have a torn muscle in my back, I would constantly get a pinched nerve where my pelvis and spine meet and my left hip would feel like it popped out of joint and I had a limited range of motion compared to my right side.
Since I started receiving adjustments, the pinched nerve problem has almost completely gone away (creeps up if I put a lot of continuous strain on my back) and my hip doesn't hurt at all with my range of motion drastically improving. On top of feeling better, Dr. Watson is very flexible with my schedule, very friendly, and he gets you in and out when you see him." ~A.A.
"I am not getting migraines anymore and I had them four times a week. I haven't had one for a week after coming here." ~L.D.
"I am always greeted in a friendly manner. A New Beginning has helped relieve tension and pain in my back. I always leave with my back feeling better and the satisfaction of knowing if an emergency arises, I'm able to get in with no appointment to relieve pain and/or stiffness." ~S.L.
"I have had x-rays and MRI's for hip pain and nothing showed up, but I was in pain. After my first visit to Dr. Watson, I felt so much better! I went to Wal-Mart and was standing and walking around for 40 minutes pain-free." ~S.B.